Searching for the best movie to watch on Netflix can be a challenge to some people. So if you are one of them that spends hours browsing what to watch on Netflix, worry no more as we are going to outline the Best Movies on Netflix in August 2022.
We have taken our time and assembled a list of some of the Best Netflix Movies currently available for streaming. This ranges from classics to hidden gems to new releases and beyond. So, therefore, if you're looking for something great to watch, see below the list of the best movies on Netflix to choose from.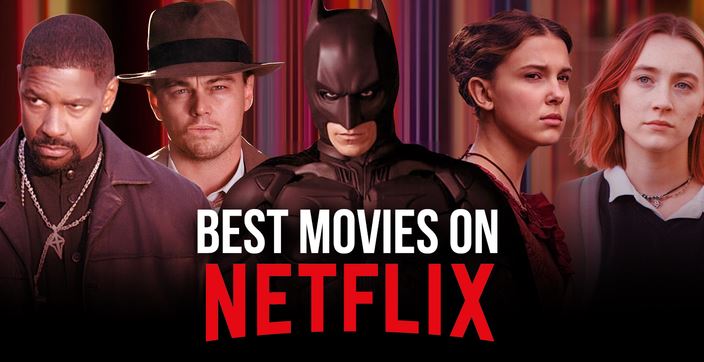 Best Movies on Netflix – The Best Netflix Movies to Stream Right Now
Netflix has massive collection of new and classic films for everyone. To help you decide what to watch next, we have gone through the whole collection each week and updated this list of the best movies on Netflix right now.
The Adam Project (2022)
Ryan Reynolds plays Adam Reed, a fighter pilot from the future who crashes in 2022 and must enlist the aid of his 12-year-old self to stop an upcoming disaster in this film from Free Guy director Shawn Levy. Reynolds is joined in the cast by Mark Ruffalo, Jennifer Garner, and Catherine Keener, as well as young actor Walker Scobell, who portrays the young Adam and delivers a fun performance as a younger — but still full of witty banter — version of Reynolds' character.
The Devil All the Time (2020)
Written and directed by Antonio Campos, The Devil All the Time is American Gothic at its most perverse. Set in rural southern Ohio and West Virginia after World War II, the story follows Arvin Russell (Tom Holland), a young man who is determined to protect his loved ones against the corruption and violence that plagues his town. From complete strangers to the most powerful institutions in the area, brutality is pervasive as everyone seeks desperately to assert their own small bits of power in a broken — but recovering — world.
Untold: Crimes & Penalties (2021)
What happens when a waste-removal tycoon with mob ties decides to buy a minor league hockey team and make his teenage son the general manager and president? That question was answered when Jimmy Galante brought the Danbury Trashers to his Connecticut hometown in 2004 and had his 17-year-old son, A.J., run the UHL expansion team for two wild, brawl-filled seasons — a run that eventually led to a massive FBI bust that sent the elder Galante to prison and forced the team to disband.
The Gray Man (2022)
Brimming over with familiar names and faces both behind the camera and in front of it, this thriller from longtime Marvel Cinematic Universe filmmakers Joe and Anthony Russo and screenwriters Christopher Markus and Stephen McFeely — who previously teamed up on The Avengers: Infinity War and Endgame — follows a CIA assassin who finds himself on the run after discovering dark secrets about the agency he works for.
Hush (2016)
A deaf, mute novelist living deep in the woods wants nothing more than to finish her new book, but a mysterious killer has other plans for her in this thriller from Midnight Mass and Oculus filmmaker Mike Flanagan. Actress Kate Siegel, who plays prominent roles in nearly all of Flanagan's projects, portrays horror novelist Maddie Young, pushed to her limits by a murderer who thinks her inability to speak or hear will make her easy prey. Tense, thrilling, and filled with clever use of sound and minimal dialogue, Hush offered an early hint of the great things to come from one of horror's most talented filmmakers.
Nightcrawler (2014)
Lou Bloom (Jake Gyllenhaal) is a driven young man who is desperate to find work in the high-octane world of Los Angeles crime journalism. After discovering a group of freelance camera crews that film crashes, fires, murder, and other mayhem around the city, Lou muscles his way into this world, which is known as nightcrawling. Now, every police siren equals a possible cash windfall, and Lou begins to see victims as another payday. Aided by veteran newswoman Nina (Rene Russo), Lou thrives in the blood sport of local TV news, eventually becoming the star of his own story.
I Care a Lot (2021)
Rosamund Pike portrays a diabolical con artist who poses as the legal guardian for elderly people in order to seize their assets in this dark, satirical thriller. Her highly profitable scam takes a dangerous turn when her latest victim turns out to be the mother of a powerful mob boss, leading to a deadly battle of wills between Pike's character and a ruthless criminal kingpin played by Peter Dinklage. Eiza González and Dianne Wiest play supporting roles in the film, which earned praise from critics and led to Pike taking home a Golden Globe Award for her performance.
Bad Trip (2020)
Eric André and Lil Rel Howery headline this hidden-camera prank film that has them playing two friends, Chris and Bud, who embark on an ill-fated road trip so Chris can tell his high school sweetheart he loves her. As they stumble from one ridiculous scenario to another, they're pursued by Bud's convict sister (Tiffany Haddish), whose car they stole for the trip. Raunchy, shocking, and relentlessly funny, the film blends scripted scenes with wild hidden-camera pranks and its duo's signature comedy for a film that's all about the journey, not the destination.
Vivo (2021)
The first musical animated feature from Sony Pictures Animation, Vivo follows a musically gifted kinkajou — a long-tailed, raccoon-like mammal usually found in tropical regions — as he embarks on a journey from Havana, Cuba, to Miami, Florida, in order to bring a message of love to his guardian's former partner. Hamilton and In the Heights mastermind Lin-Manuel Miranda created the songs for the film and voices Vivo the kinkajou, with Ynairaly Simo voicing Gabi Hernández, the young girl who helps Vivo on his quest. A long list of popular Cuban musicians and performers — including Gloria Estefan — fill out the film's cast and contribute to a musical score rooted in the region's history and culture.
The Sea Beast (2022)
Chris Williams, the co-director of Disney's Big Hero 6 and Moana, takes the helm on this animated, high-seas adventure about a young girl who stows away on a famous monster-hunting ship, only to discover that everything she thought she knew about monsters and hunters might be wrong. Zaris-Angel Hator portrays aspiring monster-hunter (and stowaway) Maisie, while Karl Urban voices legendary hunter Jacob Holland in this all-ages feature that's exciting, funny, and much deeper than its premise suggests.
The Trial of the Chicago 7 (2020)
Hollywood stalwart Aaron Sorkin rises to the occasion once more with his blistering interpretation of the 1969 Democratic National Convention trials, where seven Vietnam protestors were charged with crimes well beyond their intent. As peaceful demonstrations turn caustic, prejudice bleeds into testimony and eyewitness accounts of what took place the day of the riots. Featuring performances from Eddie Redmayne, Sacha Baren Cohen, Alex Sharp, and John Caroll Lynch, Sorkin's big-budget historical drama takes liberties here and there, but the result is a spellbinding examination of American history.
This movie talks about a rookie cop (Ethan Hawke) who joins a division. And he gets to find out that his senior officer (Denzel Washington) is corrupt as they come.
The director Antoine Fuqua explores their individual morality in a fascinating way. This movie is worth to be watched again as it counts among my reviewed Best Netflix Movies.
This movie is more of a documentary movie than a fictitious film. It has been on the Netflix platform since it releases on the 24th of March.
Director Ali Tabrizi investigates a flick that shines a light on a suspicious industry behind the destruction of the marine ecosystem. Seaspiracy has brought so much of viewers discussion online. So, there is an urge to watch this kind of movie.
This is another Oscar-nominated movie you can check out. It is an adaptation of a popular 2008 novel. The White Tiger is about Balram who comes from a poor Indian family and village.
He is so furious to become rich, and he fights to work for a wealthy family who extorts money from his village. After he started work, they committed a crime and pinned it to his head. Now he begins to do dirty jobs and crime to fight his way from the bottom of the food chain.
This Netflix big movie star Gone Girl's Rosamund Pike as Marla Grayson. She is a con artist who uses a hospital set up to scam elderly patients from their homes and possession.
This best Batman movie has returned to Netflix on March 2021. It is the second in director Christopher Nolan's trilogy based on a DC Comics character.
It takes a similar approach of realism to the movie Batman Begins. This movie takes about the continual Batman enemy, the Joker.
Other Best Netflix Movies
Thunder Force.
Pan's Labyrinth.
Malcolm & Maria.
Uncut Gems.
His House.
Ma Rainey's Black Bottom.
Always Be My Maybe.
The Irishman.
Blackfish.
The Trial of the Chicago 7.
Good Time.
Hunt for the Wilderpeople.
Casino Royale.
Spotlight.
Nightcrawler.
Da 5 Bloods.
Steve Jobs.
Django Unchained.
Scott Pilgrim vs The World.
13th.
The Social Network.
Okja.
Moonlight.
Snowpiercer.
Marriage Story.
Roma.
Outside the Wire
Finding 'Ohana
The F**k-It List
Malcolm & Marie
Moxie
Space Sweepers
The Yinyang Master
365 Days
#Alive
Maria
To All the Boys: Always and Forever
The 2nd
New Gods: Nezha Reborn
The Prom
Revenger